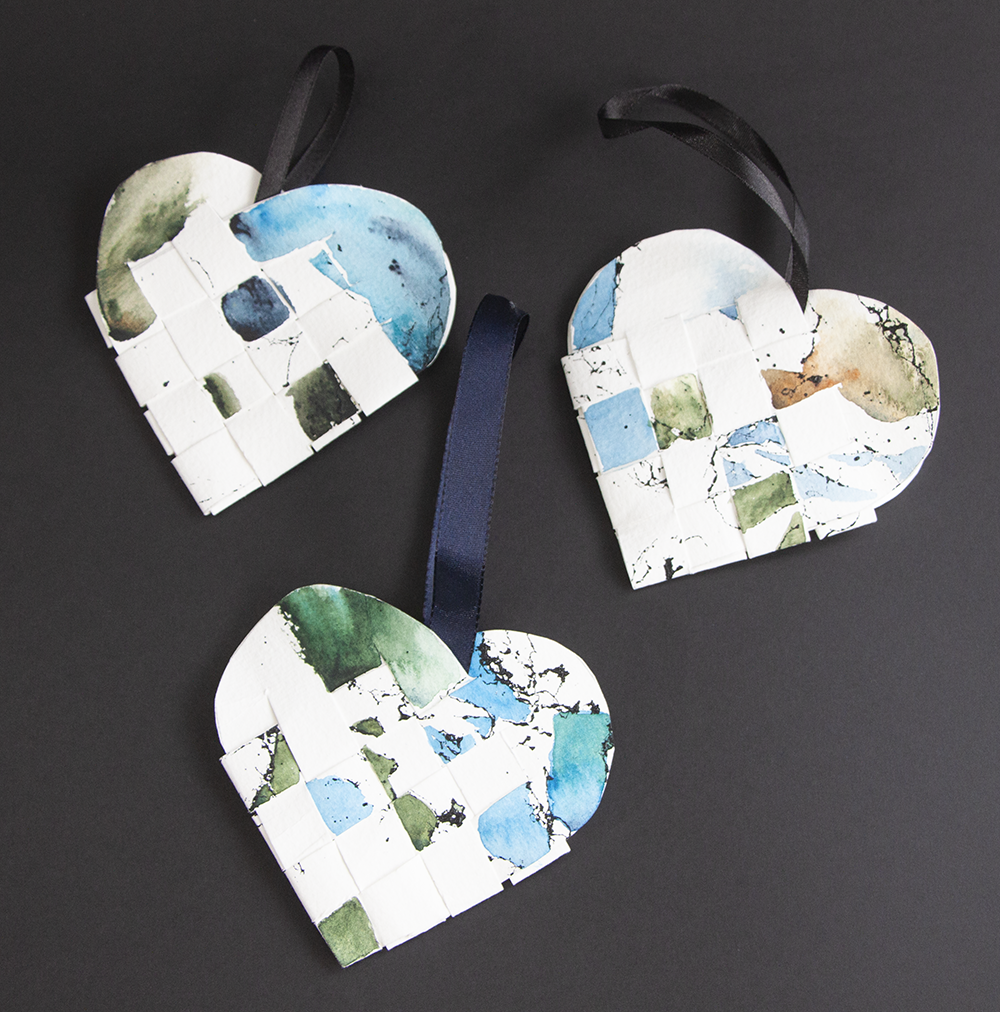 Flettede hjerter hører julen til. De skal flettes sammen med børn og børnebørn, og når de har for travlt sammen med vennerne. Min far kunne flette de mest fantastiske hjerter til juletræet. Det var min mor, der stilsikkert indrettede hjemmet, men det var min far, der enerådigt pyntede juletræet. Et år, var alt hvidt, et andet i dannebrogsfarver. Og der var altid et nyt påfund. Men hjerterne var der altid.
Mine flettede hjerter er lidt anderledes. Når man maler akvarel, især når man er bidt af det, ja så får man mange mislykkede eller i alt fald billeder, der ikke skal op på vægen. På mine akvarelhold hedder det altid ved et lidt uheldigt billede, pyt! Det kan altid blive til en foldet æske eller et flettet hjerte. Hjerterne her er dog malet for deres egen skyld. Jeg havde i efteråret fundet en Marble Spray, som frembragte de fineste mønstre, som jeg så malede lidt videre i. Og så var det bare at finde skabelonen til de flettede hjerte og begynde. Man snakker så godt hen over bordet til flettede hjerter, især hvis manden i ens liv bager julesmåkager samtidig.
Braided Christmas hearts is a must in December. They are done together with family gathering around the table having fritters and gløg. If they are too busy, we do them with friends with busy families. My father did some fabulous hearts, when I was a child. It was my mother that furnished our home very nicely, but at Christmas my father decorated the tree, each year in different colors and stile, but the hearts were always there.
Today I do them from my old watercolours not good enough to be framed. In my watercolour classes there is no one doing bad paintings, we only put them aside to do boxes or braided hearts. The hearts, you see here, are painted to be hearts, as I found a Mable Spray, which gave a delicate pattern on my paper. Afterwards I put on a few watercolours. So it is just to find your template and start. It is best if you husband is doing Christmas Cookies while you are working with your grandchildren.
Fakta / Facts
1
Alle akvareller og klip er malet på Bockingford akvarelpapir 300g cold pressed med Maimeri farver. Mine 7 grundfarver vil række til det hele, men indrømmet, jeg har også dyppet penslen i lidt andre sjove farver af og til. Grundfarverne er: Cobalt Blue Light, Raw Umbre, Ultramarine Deep, Burnt Sienna, Magenta, Primary Yellow og Yellow Orchre.
All watercolours are painted on Bockingford paper 300g cold pressed with Maimeri watercolours. My 7 bacis colours will do, but I must admit, that I had my brush in other funny colours too. My basic colours are: Cobalt Blue Light, Raw Umbre, Ultramarine Deep, Burnt Sienna, Magenta, Primary Yellow og Yellow Orchre.
2
De sorte baggrunde er en sort tyktflydende blanding af Ultramarine og Burnt Sienna. Måske bliver den ikke så pæn første gang, men øvelse gør mester
The black baggroundis a thick mix from Burnt Sienna and Ultramarine. Don´t worry if it don´t turn out nice the first time. Practice can be needed.