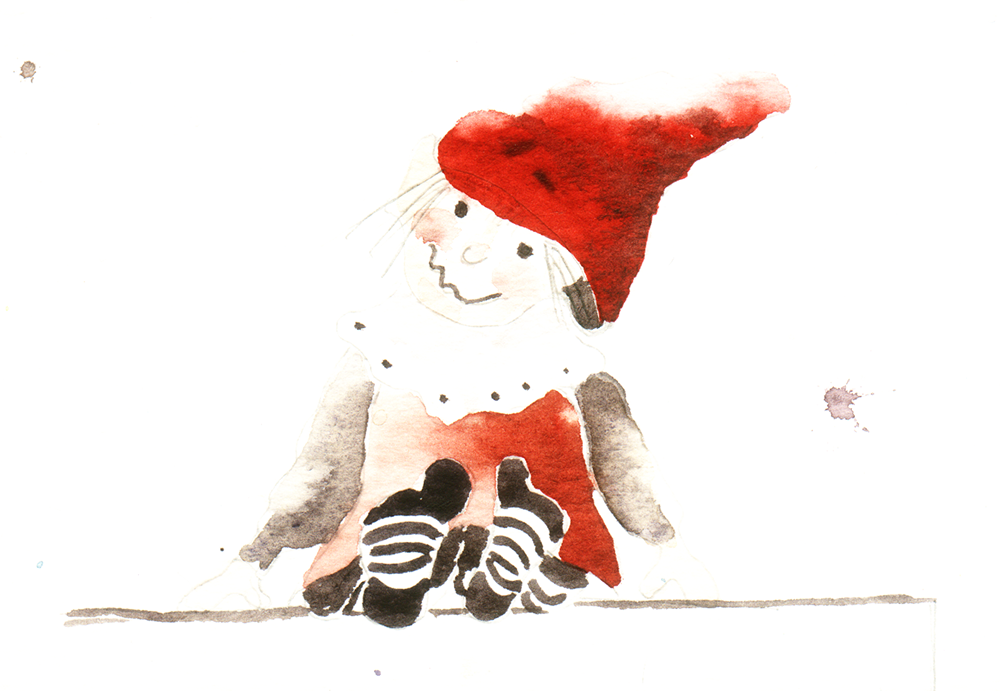 Julenisser skal være søde, eller skal de? Marie er meget utilfreds, hvis jeg ikke maler søde, hyggelige nisser. Jeg kan nu også godt lide, at de ser lidt drilske og uartige ud. Nisser er faktisk meget svære at få ind under huden, tegne og male, synes jeg. Først bruger man en masse tid på nisser der bliver grimme og kluntede, men hende her, som er min yndlingsnisse er tegner og malet på få minutter.
Nissehuer skal være røde, og det er den sværeste farve at male med. Til en god nissehue bruger jeg rød/Magenta blandet med Burnt Sienna. Den røde blanding afsættes ca. på midten. Den tones derefter ud med vand til den side, hvor lyset falder. Dernæst blandes en sort af Burnt Sienna og Ultramarine, som afsættes i den anden side. Heri føres den røde endnu våde farve ind. Det giver en runding af huen og lidt liv.
Christmas elves have to be cute, or have they? One of my students, Marie, get very dissatisfied if I don´t paint nice and cute little elves. I like then to bee teasing and naughty too. Elves I find very difficult to capture and get down on the paper. First you use an enormous amount of time to do some ugly Christmas elves, but today's elf, and she is my favorite, she is done in a few minutes. A Christmas hat has to be red, the most difficult color of them all to paint with. First I mix a red from red/Magenta and Burnt Sienna, and put it in the middle of the hat. Then I dilute it with clean water, where the lights come in. To the other side of the hat, you mix a black from Burnt Sienna and Ultramarine, and very carefully you mix the red into it. It should make the hat look round and three-dimensional.
Fakta / Facts
1
Alle akvareller og klip er malet på Bockingford akvarelpapir 300g cold pressed med Maimeri farver. Mine 7 grundfarver vil række til det hele, men indrømmet, jeg har også dyppet penslen i lidt andre sjove farver af og til. Grundfarverne er: Cobalt Blue Light, Raw Umbre, Ultramarine Deep, Burnt Sienna, Magenta, Primary Yellow og Yellow Orchre.
All watercolours are painted on Bockingford paper 300g cold pressed with Maimeri watercolours. My 7 bacis colours will do, but I must admit, that I had my brush in other funny colours too. My basic colours are: Cobalt Blue Light, Raw Umbre, Ultramarine Deep, Burnt Sienna, Magenta, Primary Yellow og Yellow Orchre.
2
De sorte baggrunde er en sort tyktflydende blanding af Ultramarine og Burnt Sienna. Måske bliver den ikke så pæn første gang, men øvelse gør mester
The black baggroundis a thick mix from Burnt Sienna and Ultramarine. Don´t worry if it don´t turn out nice the first time. Practice can be needed.