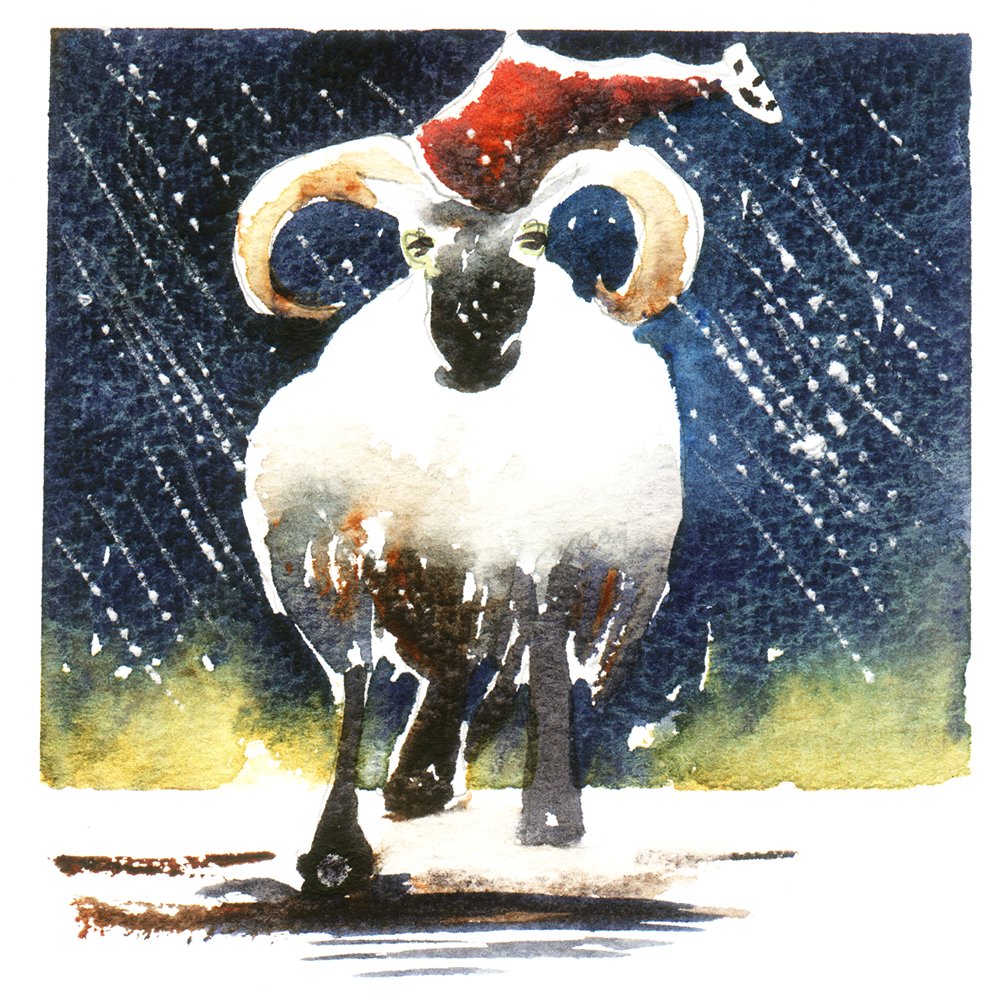 Får var det første dyr, at jeg lærte at male i Akvarel. Det var ved mit allerførste møde med akvarellens mysterier, og vi skulle lære at male sten, og det er jo et godt sted at begynde. Det var i England, næsten helt ovre ved grænsen til Wales, og der var mange får. Nu havde vi jo lært at male sten, og får … det er bare sten med ben på. Når man tænker på får på den måde, så er det faktisk meget lettere at male dem. Siden har mine akvarelfår udviklet sig. Der er de hurtige skitser af får, vi møder på rejser i Irland, Skotland og ikke mindst på Færøerne. Får der uden tanke for trafikken bevæger sig i flok over eller på vejen, Får der hopper rundt med deres små lam udenfor mit soveværelsesvindue i en lille bygd på Færøerne. Den bedste oplevelse var, da jeg med Klipperne var også på Færøerne. Anders skulle vise os øerne og kendte uendelige smutveje, og lige pludselig stod de der tæt pakket i en lille fårefold og ventede på at blive klippet. Vi hoppede ud af bilerne, greb kameraerne og begyndte at skyde billeder. Det var også på den tur vi havde en uge på Steinprint i Thorshavn, hvor vi lavede stentryk. Meget spændende og der måtte selvfølgelig et får på det ene af mine tryk.
Sheep were the first animals I learned to paint. It was when I first learned about the mysteries of Watercolour. I had to paint stones, which is a good starting point. The course was at Weobly Art Center in England, near the Welsh border, and there were a huge amount of sheep all around us. Now we all had learned to paint stones, and sheep, we were told, were just stones with legs on. If you think of sheep that way, they are actually easy to paint. Since then my watercolour sheep had developed a bit. There had been loot´s of sheep sketching in Ireland, Scotland and the Faroe Islands, where I bring students. There had been flock´s of sheep walking the roads making traffic jam, sheep with lam´s hopping around min bedroom window in a small village in the Faroe Island. But best of all when I went to Thorshavn. Anders was to show us around the Islands and suddenly at the roadside there they were. Hundreds of sheep standing close together in a sheepfold close the steep mountainside waiting for shearing. All of us jumped out of the car bringing sketchbooks and cameras. The same week we had a week at Steinprint to do lithographs, printing from stones. Exiting … and off cause I put a sheep on one of my prints.
Fakta / Facts
1
Alle akvareller og klip er malet på Bockingford akvarelpapir 300g cold pressed med Maimeri farver. Mine 7 grundfarver vil række til det hele, men indrømmet, jeg har også dyppet penslen i lidt andre sjove farver af og til. Grundfarverne er: Cobalt Blue Light, Raw Umbre, Ultramarine Deep, Burnt Sienna, Magenta, Primary Yellow og Yellow Orchre.
All watercolours are painted on Bockingford paper 300g cold pressed with Maimeri watercolours. My 7 bacis colours will do, but I must admit, that I had my brush in other funny colours too. My basic colours are: Cobalt Blue Light, Raw Umbre, Ultramarine Deep, Burnt Sienna, Magenta, Primary Yellow og Yellow Orchre.
2
De sorte baggrunde er en sort tyktflydende blanding af Ultramarine og Burnt Sienna. Måske bliver den ikke så pæn første gang, men øvelse gør mester
The black baggroundis a thick mix from Burnt Sienna and Ultramarine. Don´t worry if it don´t turn out nice the first time. Practice can be needed.