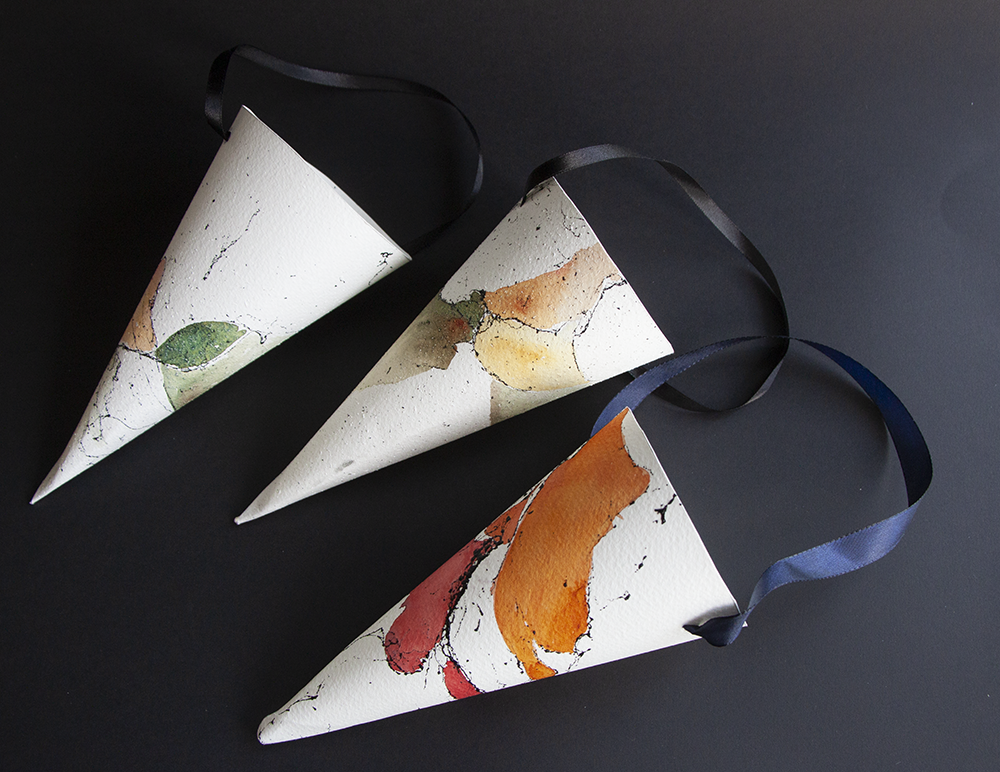 Kræmmerhus med krøller hank står der skrevet om i min absolutte yndlings julesang. Kræmmerhuse kan ikke klappes sammen, men de kan selvfølgelig sættes ind i hinanden. Og så kommer problemet: hanken krøller. Det sidste problem kan løses ved at sætte silkebånd i som hank.
Det er ikke alle mine kræmmerhuse til jul, hvor børnebørnene får lov at boltre sig. Jeg kan også godt lige at kreere nogle, der er lidt mere "stilige". Stilen kan skifte fra år til år, men stilen kan også gå igen på flere forskellige juleting som her. Ligesom på hjerterne den 4. og lamperne i går har kræmmerhusene her fået Mable Spray og lidt abstrakt akvarel, men de er også charmerende med diverse sommerminder som Cliffs of Moher i Irland eller Ponte Vecchio i Firenze.
In my favorite Christmas carol, it says that the Christmas cornet easily will get a curly hank while stored away till next year. That can easily be solved by using silk ribbon instead of paper. My grandchildren will not be on all the Christmas cornets. I also like to create some more stylish. The style can differ from one year to another. The style can also repeat itself on different items for decoration. Like the braided Christmas hearts on December the 4th and the Lamps yesterday has the Christmas cornet got a little Mable Spray and a few brushstrokes. They would be charming too cut from watercolours with summer memories from Cliffs of Moher in Ireland or Ponte Vecchio In Florence.
Fakta / Facts
1
Alle akvareller og klip er malet på Bockingford akvarelpapir 300g cold pressed med Maimeri farver. Mine 7 grundfarver vil række til det hele, men indrømmet, jeg har også dyppet penslen i lidt andre sjove farver af og til. Grundfarverne er: Cobalt Blue Light, Raw Umbre, Ultramarine Deep, Burnt Sienna, Magenta, Primary Yellow og Yellow Orchre.
All watercolours are painted on Bockingford paper 300g cold pressed with Maimeri watercolours. My 7 bacis colours will do, but I must admit, that I had my brush in other funny colours too. My basic colours are: Cobalt Blue Light, Raw Umbre, Ultramarine Deep, Burnt Sienna, Magenta, Primary Yellow og Yellow Orchre.
2
De sorte baggrunde er en sort tyktflydende blanding af Ultramarine og Burnt Sienna. Måske bliver den ikke så pæn første gang, men øvelse gør mester
The black baggroundis a thick mix from Burnt Sienna and Ultramarine. Don´t worry if it don´t turn out nice the first time. Practice can be needed.