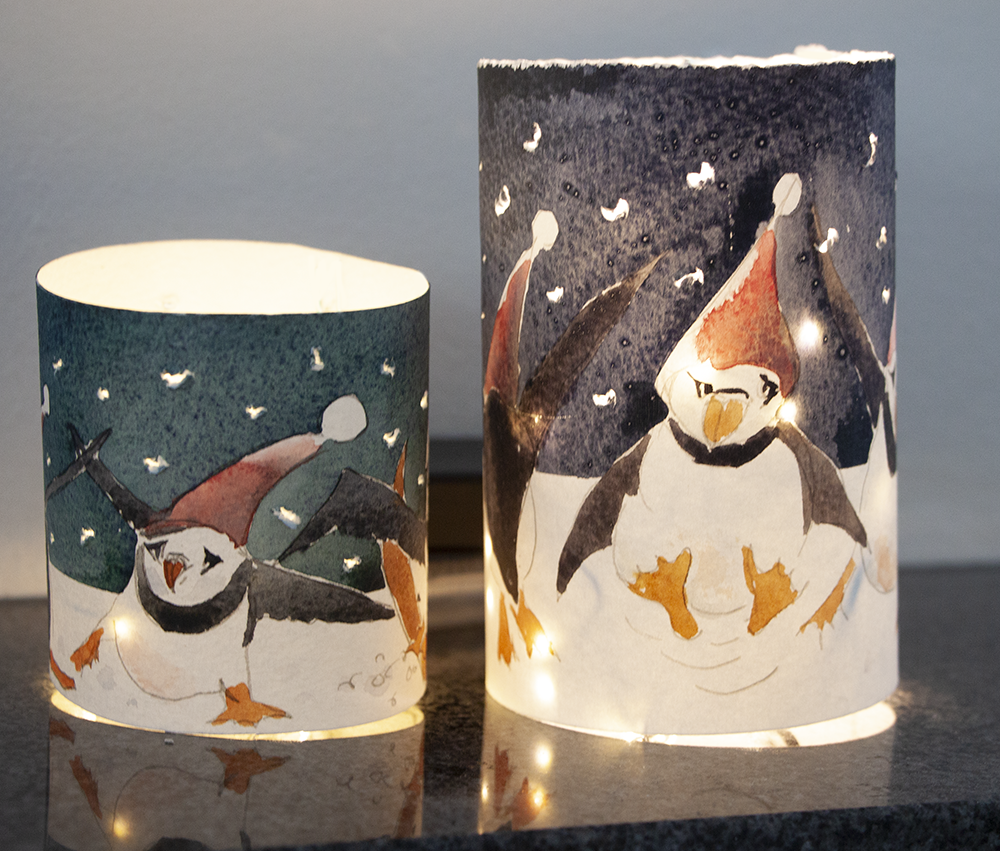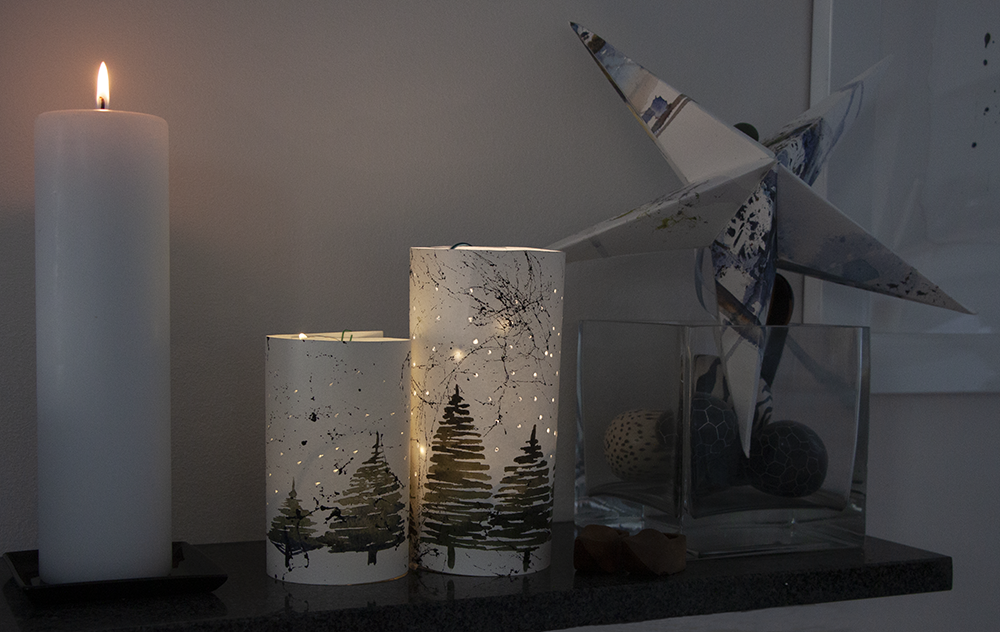 Skrev jeg lige i går, at jeg ikke kunne lide at male grønne træer. Ja det er så ikke helt sandt. Juletræer/grantræer er undtaget. Måske er det bare lidt julestemning, der gør det? I alt fald stod der lige pludselig små grantræer på akvarelpapiret, og rigtig mange af dem. Ved første forsøg er de måske lidt svære at male. Men prøv med en specialpensel, pointed tip. Den har meget tynd og fin spids, mens den samtidig har stor penselfylde nedenfor. Man starter foroven med en tynd streg, så lidt til den ene side og bagefter lidt til den anden side. Der skal være" helligdage" = efterladt hvidt papir = sne. Fortsæt på denne måde blot med længere og længere strøg/grene jo længere du kommer ad træets stamme. Læg lidt mørkt, næsten sort i underkanten af de fleste grene.. Prik og rul som beskrevet den 13.
Did I wrote yesterday, that I didn´t like to paint green trees. It is not quite true. Fir trees or Christmas trees are an exception. Maybe it was just the Christmas spirit that did the trick. No matter what, suddenly there was a long row of small green trees on my watercolour paper. On the first attempt it could seem hard to paint. Try painting with a special brush, a pointed tip. It has a very fine tip, but a large reservoir for paint. Start at the top with a fine stroke, then from one side to the other and leave out some white paper, supposed to look like snow. Put in some dark paint at the bottom of the branches.Dot some holes and fold the lamp as described on December the 13th.
Fakta / Facts
1
Alle akvareller og klip er malet på Bockingford akvarelpapir 300g cold pressed med Maimeri farver. Mine 7 grundfarver vil række til det hele, men indrømmet, jeg har også dyppet penslen i lidt andre sjove farver af og til. Grundfarverne er: Cobalt Blue Light, Raw Umbre, Ultramarine Deep, Burnt Sienna, Magenta, Primary Yellow og Yellow Orchre.
All watercolours are painted on Bockingford paper 300g cold pressed with Maimeri watercolours. My 7 bacis colours will do, but I must admit, that I had my brush in other funny colours too. My basic colours are: Cobalt Blue Light, Raw Umbre, Ultramarine Deep, Burnt Sienna, Magenta, Primary Yellow og Yellow Orchre.
2
De sorte baggrunde er en sort tyktflydende blanding af Ultramarine og Burnt Sienna. Måske bliver den ikke så pæn første gang, men øvelse gør mester
The black baggroundis a thick mix from Burnt Sienna and Ultramarine. Don´t worry if it don´t turn out nice the first time. Practice can be needed.