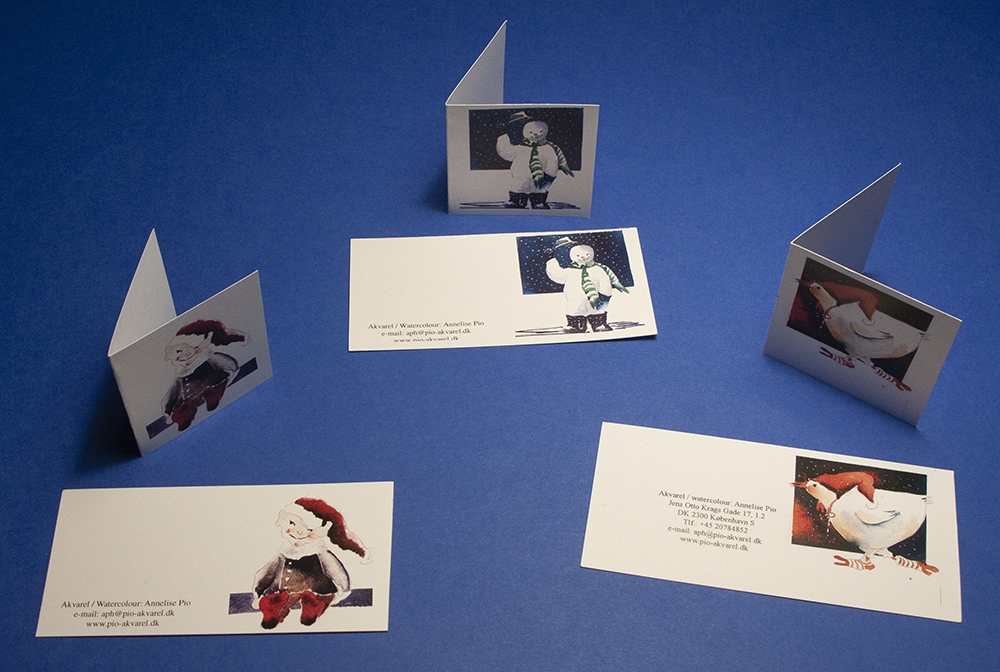 Nu er de fleste gaver forhåbentlig købt, og man kan begynde at pakke ind. Så skal der laves til og fra kort.
Den nemme: Jeg har fået ideen fra min veninde Jane, der også maler akvarel. Som jeg, har hun også rigtig mange akvareller, som egentlig ikke skal bruges til noget, måske er de lidt uheldige har nogle uheldige penselstrøg nogle steder. Men vi smider dem ikke ud. Disse akvareller kan man, hvis man ikke allerede har flettet hjerter eller lavet æsker af dem, bruge til til og fra kort. Man finder frem til en form der passer til et til og fra kort. Det kan selvfølgelig være firkantet, men det kan også tage form af en lille bamse, et hjerte eller en flaske alt efter om det er til moster Magda eller lille Bimmer. Prik hul i til gavebånd
Den lidt sværere: Man maler som til sine julekort sit eget julebillede, skanner det og sætter det op i et layout program. Jeg bruger samme formal som til mine visitkort, der er lidt længere end de fleste. De første var tænkt som visitkort og lavet i Publisher. Du har det måske i din Office pakke til Pc'en. I dag bruger jeg InDesign. Print og prik hul i til gavebånd.
Now most of the presents for Christmas are bought and you can start wrapping. And you will need to and from cards.
The easy solution: I got the idea from my friend Jane. She too is a watercolour painter, and like me, she has many watercolours not to be used. So if I haven´t used them for boxes of other Christmas decorations I will scissor small really good parts out of the paintings, dot a hole, and use it as to and from card. Sometimes I do a form, like a bottle or a heart or whatever is suitable for the receiver of the present. More difficult: You paint your own cards with this year´s image, just like Christmas cards for sending by mail. I use the same format as my business card. The first ones I did as a business card in the lay out program Publisher. You may have it on your Pc as part of the Office package .Today I use InDesign. Don´t forget to dot a hole for the ribbon.
Fakta / Facts
1
Alle akvareller og klip er malet på Bockingford akvarelpapir 300g cold pressed med Maimeri farver. Mine 7 grundfarver vil række til det hele, men indrømmet, jeg har også dyppet penslen i lidt andre sjove farver af og til. Grundfarverne er: Cobalt Blue Light, Raw Umbre, Ultramarine Deep, Burnt Sienna, Magenta, Primary Yellow og Yellow Orchre.
All watercolours are painted on Bockingford paper 300g cold pressed with Maimeri watercolours. My 7 bacis colours will do, but I must admit, that I had my brush in other funny colours too. My basic colours are: Cobalt Blue Light, Raw Umbre, Ultramarine Deep, Burnt Sienna, Magenta, Primary Yellow og Yellow Orchre.
2
De sorte baggrunde er en sort tyktflydende blanding af Ultramarine og Burnt Sienna. Måske bliver den ikke så pæn første gang, men øvelse gør mester
The black baggroundis a thick mix from Burnt Sienna and Ultramarine. Don´t worry if it don´t turn out nice the first time. Practice can be needed.