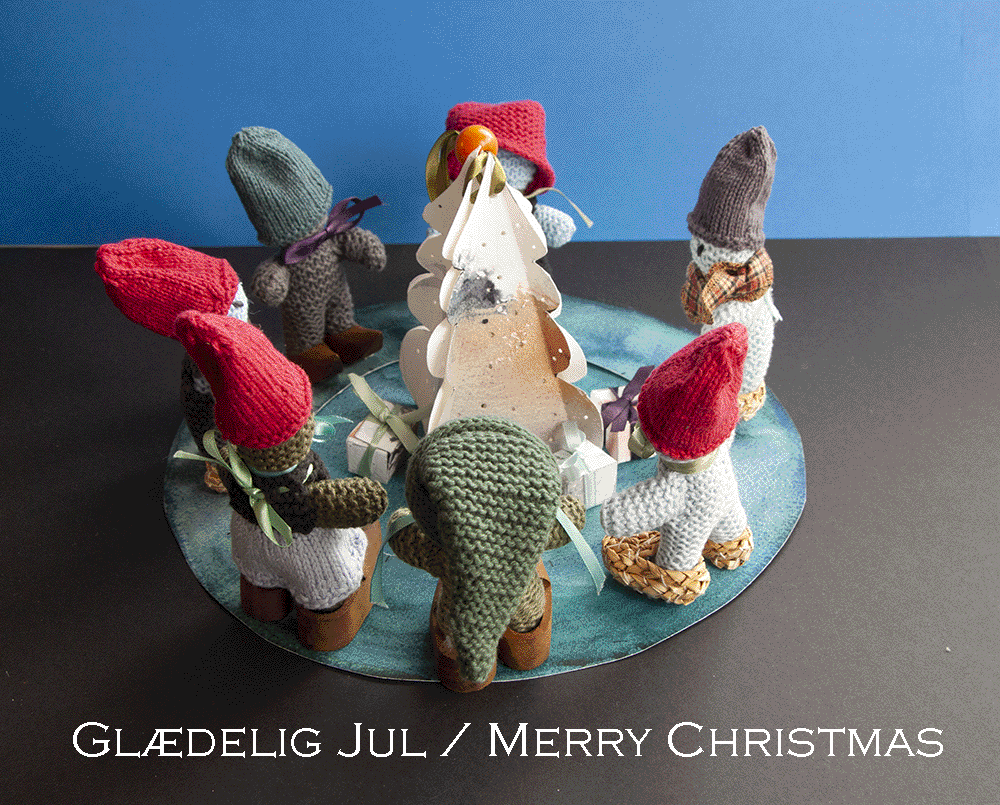 Juletræet på besøg, hilser os fra eg og bøg, med besked derudefra, at det lysner dag for dag … hvor er det dejligt. Det er den absolut bedste julesang af Mogens Lorentzen, som altid må synges, når vi går rundt om træet, Det største og fineste af træerne fra den 22. er kommet ind i stuen som juletræ. Der er kommet juletræstæppe under træet, som sig hør og bør, og små foldede julegraver inde under træet. Et år havde lille Xenia i et ubevogtet øjeblik omhyggeligt åbnet alle pakkerne og fyldt dem med små legetøjsæbler. Lige så sirligt havde hun derefter lukket dem igen. Jeg opdagede det først, da jeg manglede de små æbler. Selv om man kun er 3 år, ved man godt, at der skal være gaver i pakkerne.
De små strikkede nisser og jeg vil ønske alle en glædelig jul
På gensyn i det nye år.
The Christmas tree visiting from the forest greets us from oak and beech telling us, that now the light is coming back and days will now again be a bit longer every day. This is the words from a Danish Christmas song; we often sing dancing around the Christmas tree. The finest of the trees from December the 22nd are now standing in my house for the small knitted Christmas elves. A Carpet under the tree is just as imported as the gift packages for the small elves. One year our little granddaughter Xenia unfolded all of the small packages and put in small toy apples. I didn´t found out, until I missed the apples for another decoration. Even if you are only 3, you know that even if very small a package is to contain a gift.
All knitted Christmas elves and I wish you a merry Christmas.
See you next year.
Fakta / Facts
1
Alle akvareller og klip er malet på Bockingford akvarelpapir 300g cold pressed med Maimeri farver. Mine 7 grundfarver vil række til det hele, men indrømmet, jeg har også dyppet penslen i lidt andre sjove farver af og til. Grundfarverne er: Cobalt Blue Light, Raw Umbre, Ultramarine Deep, Burnt Sienna, Magenta, Primary Yellow og Yellow Orchre.
All watercolours are painted on Bockingford paper 300g cold pressed with Maimeri watercolours. My 7 bacis colours will do, but I must admit, that I had my brush in other funny colours too. My basic colours are: Cobalt Blue Light, Raw Umbre, Ultramarine Deep, Burnt Sienna, Magenta, Primary Yellow og Yellow Orchre.
2
De sorte baggrunde er en sort tyktflydende blanding af Ultramarine og Burnt Sienna. Måske bliver den ikke så pæn første gang, men øvelse gør mester
The black baggroundis a thick mix from Burnt Sienna and Ultramarine. Don´t worry if it don´t turn out nice the first time. Practice can be needed.