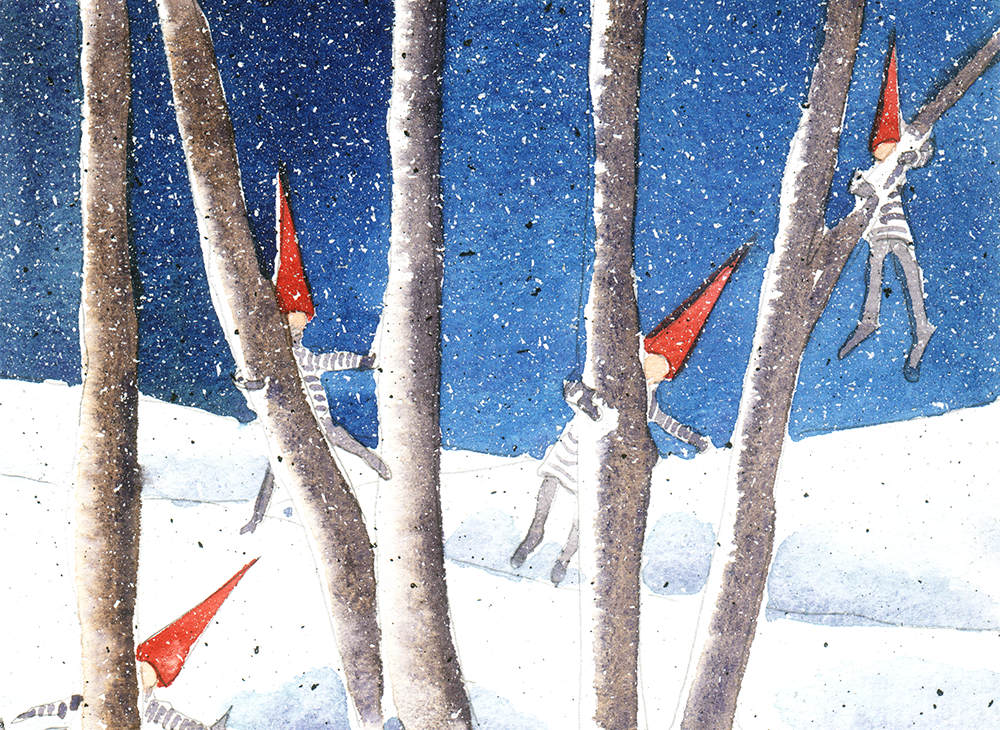 Jeg holder meget af at male nøgne træer, og jeg har det meget blandet med, når jeg bliver bedt om at male grønne trækroner. For mig bliver det lidt kluntet og tungt, hvorimod mørke nøgne stammer og grene giver en fin grafisk fremtoning. Så en skov af træstammer er lige mig, og her titter så små bitte nisser frem bag stammerne. Jeg har lavet mange af dem, nogle gange kravler de i træerne eller hænger og dingler med hovedet nedad. Mine forældre har et sådant lille billede stående i vindueskarmen. Egentlig er det blot julepynt, men nu må jeg ikke fjerne det. Så det står fremme hele året.
I do love to paint winter trees with no leaves and I don´t like to be asked to paint the green treetops. To me they do not look good in watercolour. It could easily become clumsy and heavy, where naked trees will give a nice graphic atmosphere. That´s why a forest of tree trunks is one of my favorite subjects. Here small Christmas elves are looking at you from behind the trees. Some are climbing the tree, some hanging from the branches and some running around on the ground. I framed one of the paintings and put it for Christmas on the windowsill in front of my father in his wheelchair. It was only meant for Christmas, but now I´m not allowed moving it.
Fakta / Facts
1
Alle akvareller og klip er malet på Bockingford akvarelpapir 300g cold pressed med Maimeri farver. Mine 7 grundfarver vil række til det hele, men indrømmet, jeg har også dyppet penslen i lidt andre sjove farver af og til. Grundfarverne er: Cobalt Blue Light, Raw Umbre, Ultramarine Deep, Burnt Sienna, Magenta, Primary Yellow og Yellow Orchre.
All watercolours are painted on Bockingford paper 300g cold pressed with Maimeri watercolours. My 7 bacis colours will do, but I must admit, that I had my brush in other funny colours too. My basic colours are: Cobalt Blue Light, Raw Umbre, Ultramarine Deep, Burnt Sienna, Magenta, Primary Yellow og Yellow Orchre.
2
De sorte baggrunde er en sort tyktflydende blanding af Ultramarine og Burnt Sienna. Måske bliver den ikke så pæn første gang, men øvelse gør mester
The black baggroundis a thick mix from Burnt Sienna and Ultramarine. Don´t worry if it don´t turn out nice the first time. Practice can be needed.