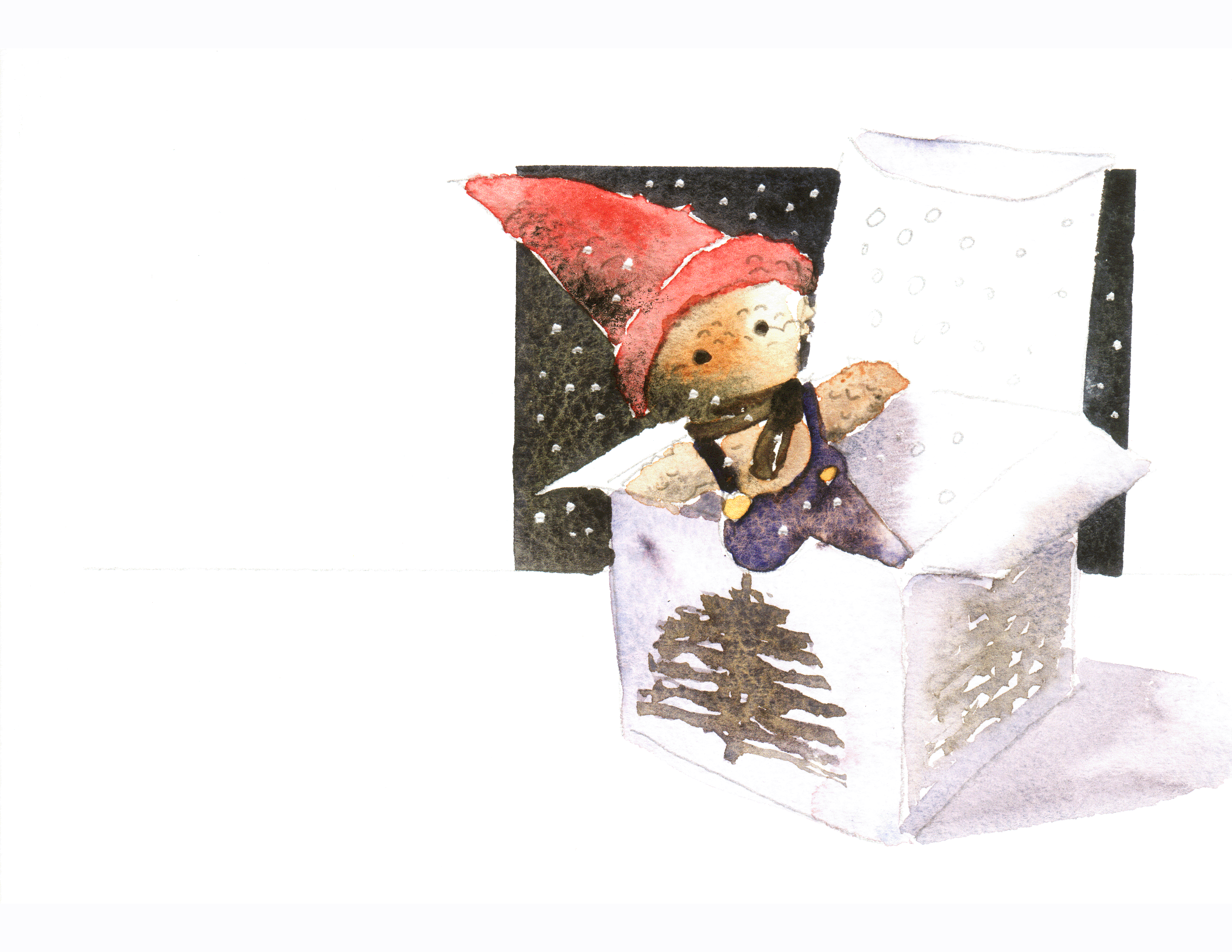 Det er den første december, og forretningerne har længe været fyldt med nisser og anden julepynt, for slet ikke at tale om tillokkende julekøb. Det bider ikke rigtig på mig. Men jeg glæder mig hvert år til december, hvor man må slå sig løs i kreative sysler, tegne, male og klippe. Man behøver ikke have de store målsætninger, det er blot dejligt at få lov til at udfolde sig med små finurlige ting på papiret. Ud af den første gave hopper lille Bum, der er en strikket bamse udsat for pensel og akvarel. Det er en lille krudtugle, der ikke ved, at gaver først skal åbnes den 24. Så nu hopper han lystigt rundt på mit malebord i Bunrt Sienna og Ultramarine
It is the first day of December, but shops have been stuffed with Christmas for long, and there had been special offers for Christmas presents. But I don´t really care. I´m looking forward to December, where it is allowed to be creative, drawing, cutting and painting silly small things, and funny creatures suddenly pub up from the paper. In the first present Bum is hiding now eager to jump out. He is a knitted teddy painted in watercolour, and for the rest of December he will be playing on my table among my brushes and paints.
Fakta / Facts
1
Alle akvareller og klip er malet på Bockingford akvarelpapir 300g cold pressed med Maimeri farver. Mine 7 grundfarver vil række til det hele, men indrømmet, jeg har også dyppet penslen i lidt andre sjove farver af og til. Grundfarverne er: Cobalt Blue Light, Raw Umbre, Ultramarine Deep, Burnt Sienna, Magenta, Primary Yellow og Yellow Orchre.
All watercolours are painted on Bockingford paper 300g cold pressed with Maimeri watercolours. My 7 bacis colours will do, but I must admit, that I had my brush in other funny colours too. My basic colours are: Cobalt Blue Light, Raw Umbre, Ultramarine Deep, Burnt Sienna, Magenta, Primary Yellow og Yellow Orchre.
2
De sorte baggrunde er en sort tyktflydende blanding af Ultramarine og Burnt Sienna. Måske bliver den ikke så pæn første gang, men øvelse gør mester
The black baggroundis a thick mix from Burnt Sienna and Ultramarine. Don´t worry if it don´t turn out nice the first time. Practice can be needed.