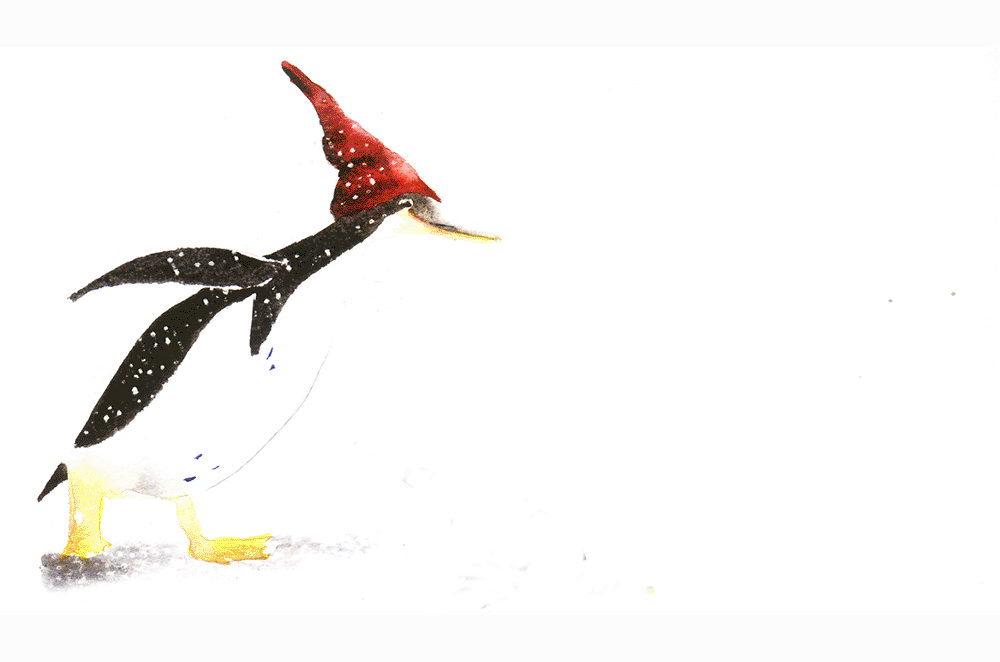 Pingviner er søde, og de har altid stået mit hjerte nær. Men jeg kan ikke huske præcis hvordan jeg fik ideen til at give dem nissehuer på for mere end 10 år siden. Det var dengang man stadig skrev julekort, og min far og jeg begyndte at samarbejde omkring at lave kort. Han klippede og foldede konvolutter, og jeg malede julemotiver.
Det ser måske nemt og enkelt ud. Men når man giver sig i kast med en ide som her pingviner, bliver de første måske ikke lette, enkle og søde, men små, tykke og grimme. Og så lige pludselig så er de der, og de kaster sig ud i hovedspring, står på ski, løber på skøjter og kaster med snebolde. En stor inspiration var Asbjørn, mit ældste barnebarn, der dengang ikke var særlig gammel. Jeg har stadig hans tegning af nogle meget anderledes pingviner, der hopper på hovedet i vandet. De var geniale.
Penguins are sweet and lovely creatures, and I always loved to see them waddle along. But I really do not know how I got the idea of giving them Christmas hat´s more than 10 years ago. Back then you still wrote lots of Christmas cards, and I made an agreement with my father. I painted the cards, and he did the envelopes.
The penguins looks very simple, but it´s not that easy. The first I did were not nice, cute and simple, they were clumsy and close to ugly. But just keep on, and suddenly it´s easy also to make them go skiing, dancing and making snowballs. A huge inspiration was Asbjørn, my oldest grandson, who did some strange but very good penguins jumping into the water.
Fakta / Facts
1
Alle akvareller og klip er malet på Bockingford akvarelpapir 300g cold pressed med Maimeri farver. Mine 7 grundfarver vil række til det hele, men indrømmet, jeg har også dyppet penslen i lidt andre sjove farver af og til. Grundfarverne er: Cobalt Blue Light, Raw Umbre, Ultramarine Deep, Burnt Sienna, Magenta, Primary Yellow og Yellow Orchre.
All watercolours are painted on Bockingford paper 300g cold pressed with Maimeri watercolours. My 7 bacis colours will do, but I must admit, that I had my brush in other funny colours too. My basic colours are: Cobalt Blue Light, Raw Umbre, Ultramarine Deep, Burnt Sienna, Magenta, Primary Yellow og Yellow Orchre.
2
De sorte baggrunde er en sort tyktflydende blanding af Ultramarine og Burnt Sienna. Måske bliver den ikke så pæn første gang, men øvelse gør mester
The black baggroundis a thick mix from Burnt Sienna and Ultramarine. Don´t worry if it don´t turn out nice the first time. Practice can be needed.