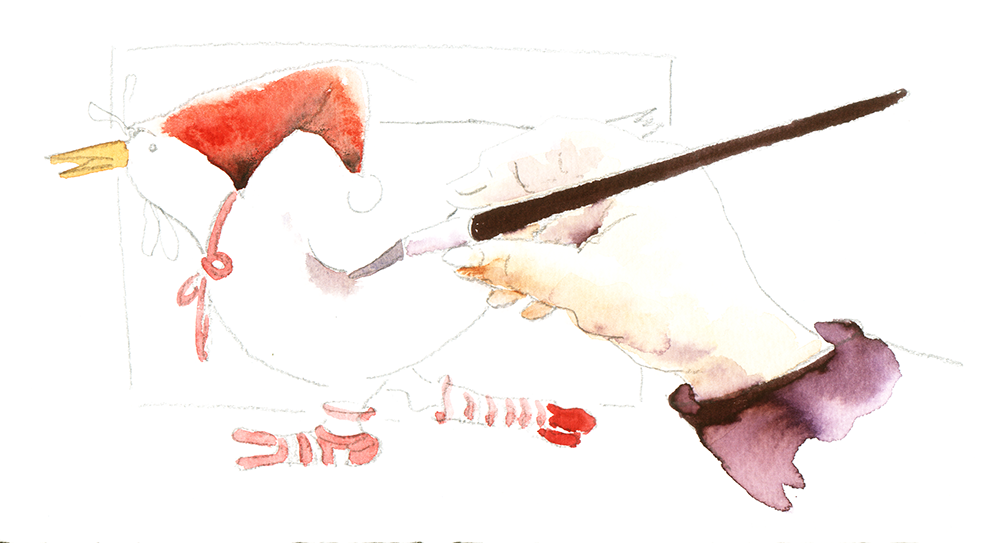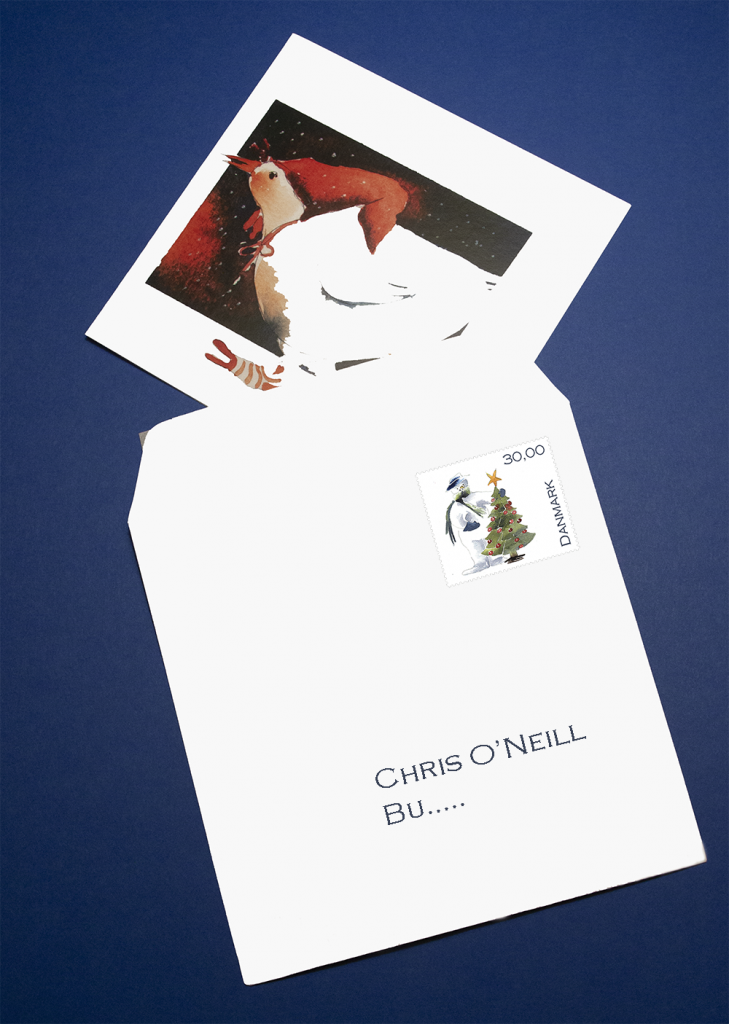 Skal man skrive julekort, så er det på høje tid nu. Da jeg var barn, blev der skrevet mange julekort. Da jeg var ung, arbejde jeg på et forlag, hvor der komme masser af fine jule kort også fra det store udland. Man stillede dem i vindueskarmen, og der gik vist lidt sport i, hvem der fik flest og flottest kort. Jeg fik mange, men ikke flest. I dag skriver jeg, som de fleste, ikke mange fysiske kort. Men jeg holder meget af at male julekort. De bliver som altid skannet og sat ind på PC´en. Skal det være rigtige kort, skal de forbi et layout program, mit hedder InDesign, men der er mange andre programmer, så man kan designe sit eget kort. Husk at det i størrelse skal passe til en konvolut. Oftest bruger jeg den skannede juleakvarel i mine julemails.
Min far på 96, der jo engang var storproducent af konvolutter til mine kort, skriver heller ikke julekort mere. Men da jeg jo har leveret alle hans kort, hvor mit navn med e-mail adresse står bagpå. Så skriver de til mig, når de ikke får julekort. Så nu får de også julemail fra mig med nyt om mine forældre.
If you are to write Christmas cards, it´s time now to do so. When I was a child, my parents wrote lots of card every December. When I was young, I worked in a Company, where there came a huge amount of Christmas cards during December among them some delicate ones from abroad. We put them in the windowsill, and I recall there was some kind of competition having the biggest and finest collection. I got plenty, but never more than my colleges. Today as many other Danes, I do not write more than a few Christmas cards to be sent by postal service. But I still love to paint Christmas card. They will as always be scanned and put into the PC. If you do real cards you have to use a layout program. I use InDesign but there are several other not so expensive. But mostly I send Christmas card via e-mail, and then just copy my Christmas painting into my mail.
My father, now 96, do not write Christmas cards anymore, but as he always used my painted card to send, his English friends and my mother's American friend wrote me asking for how they were, as they missed their Christmas Cards from Denmark. The found my e-mail address on the back of the cards. So now I send a Christmas e-mail with news about my parents.
Fakta / Facts
1
Alle akvareller og klip er malet på Bockingford akvarelpapir 300g cold pressed med Maimeri farver. Mine 7 grundfarver vil række til det hele, men indrømmet, jeg har også dyppet penslen i lidt andre sjove farver af og til. Grundfarverne er: Cobalt Blue Light, Raw Umbre, Ultramarine Deep, Burnt Sienna, Magenta, Primary Yellow og Yellow Orchre.
All watercolours are painted on Bockingford paper 300g cold pressed with Maimeri watercolours. My 7 bacis colours will do, but I must admit, that I had my brush in other funny colours too. My basic colours are: Cobalt Blue Light, Raw Umbre, Ultramarine Deep, Burnt Sienna, Magenta, Primary Yellow og Yellow Orchre.
2
De sorte baggrunde er en sort tyktflydende blanding af Ultramarine og Burnt Sienna. Måske bliver den ikke så pæn første gang, men øvelse gør mester
The black baggroundis a thick mix from Burnt Sienna and Ultramarine. Don´t worry if it don´t turn out nice the first time. Practice can be needed.