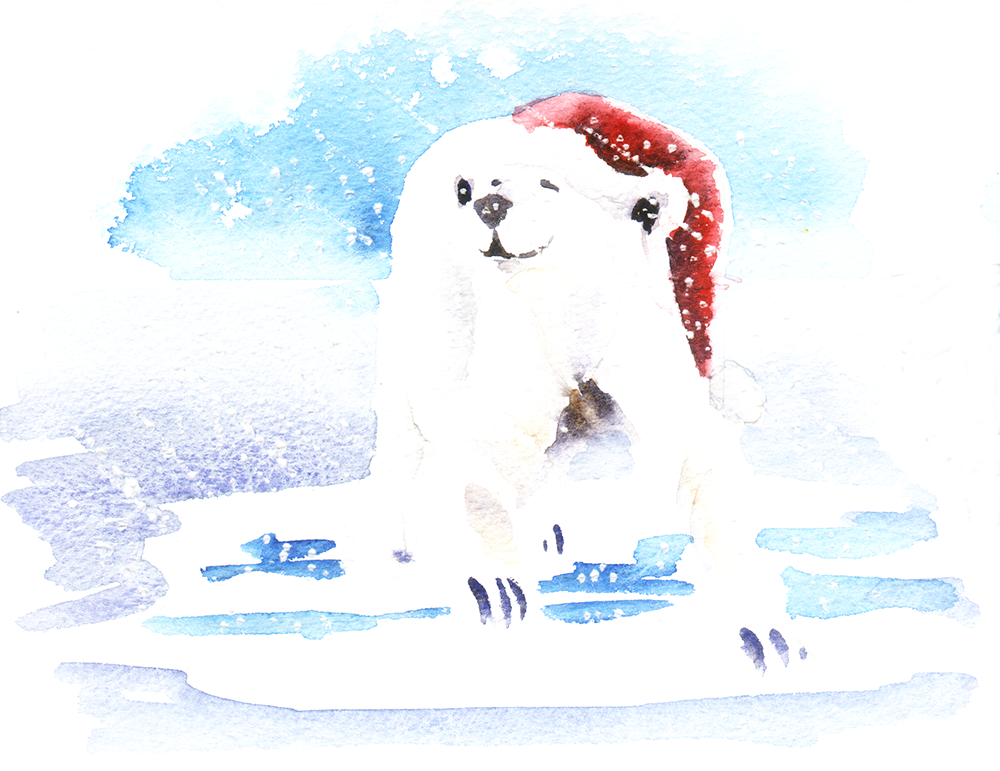 Isbjørne er store, faktisk enorme, og kluntede. De er ekstremt farlige, men de fleste synes, som jeg, at de er nuttede. Jeg var vildt spændt, da de åbnede det nye isbjørneanlæg i ZOO i København for nogle år side. Her skulle man kunne gå gennem en tunnel og se isbjørnene gennem glas svømme hen over en. Problemet var bare, at den ikke gad de førte mange gange, jeg stod der med skitsebogen. Nu langt senere har jeg set det, og det var en stor oplevelse.
Isbjørne kan synes svære at male, da de jo er hvide. Men det handler blot om at male skygger og måske lidt skidt, det var vel mærkeligt om den var helt ren. Skygger kan være grå blandet af Raw Umbre og Cobalt.
Polar bears are huge animals and clumsy it seems. They are also extremely dangerous, even if most people find the very cute. I was excited when the Copenhagen Zoo a few years ago opened a new polar bear facility area. Here you should be able to walk through a tunnel and see the polar bears through glass swim over your head. Only problem was, the polar bear did not bother to do so, when I was there to see him. Later I saw it, and it was fantastic.
Polar bears can be difficult to paint, as they are white. It is all about shadows and maybe a little bit of dirt. It would be strange, if it was totally clean. Shadows can be grey made of a mix from Raw Umbre and Cobalt.
Fakta / Facts
1
Alle akvareller og klip er malet på Bockingford akvarelpapir 300g cold pressed med Maimeri farver. Mine 7 grundfarver vil række til det hele, men indrømmet, jeg har også dyppet penslen i lidt andre sjove farver af og til. Grundfarverne er: Cobalt Blue Light, Raw Umbre, Ultramarine Deep, Burnt Sienna, Magenta, Primary Yellow og Yellow Orchre.
All watercolours are painted on Bockingford paper 300g cold pressed with Maimeri watercolours. My 7 bacis colours will do, but I must admit, that I had my brush in other funny colours too. My basic colours are: Cobalt Blue Light, Raw Umbre, Ultramarine Deep, Burnt Sienna, Magenta, Primary Yellow og Yellow Orchre.
2
De sorte baggrunde er en sort tyktflydende blanding af Ultramarine og Burnt Sienna. Måske bliver den ikke så pæn første gang, men øvelse gør mester
The black baggroundis a thick mix from Burnt Sienna and Ultramarine. Don´t worry if it don´t turn out nice the first time. Practice can be needed.