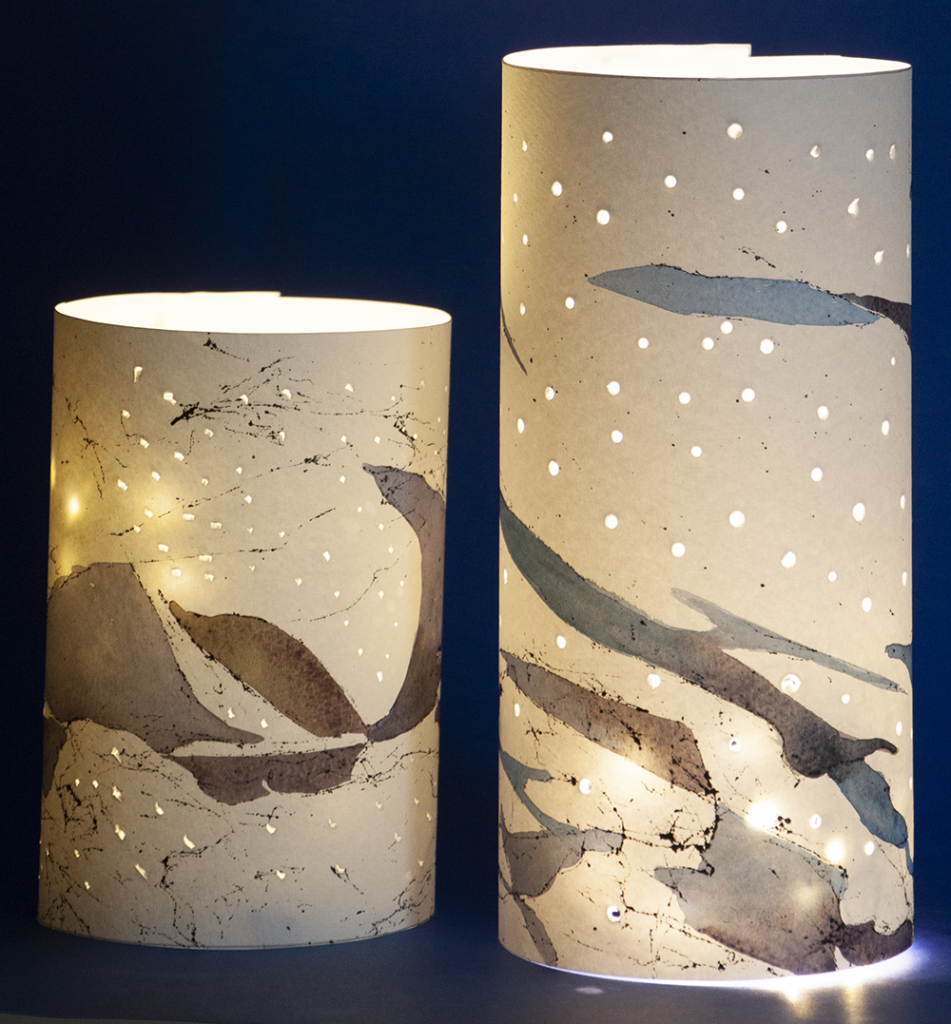 Der skal lys ind alle vegne i december, der kun bliver mørkere og mørkere, som dagene bliver kortere. Lamperne med den små LED lys er med til at lyse op, og der må gerne være mange af dem. De er ganske simple at lave. En akvarel figurativ eller abstrakt, alt efter hvad du bedst kan lide, og hvad der passer til din jul i farver. Jeg er personlig ikke til alt for meget rødt og grønt. Så disse lamper er i mine yndlingsfarver. Lidt Mable Spray og lidt akvarelfarve i tilfældige mønstre. Når man runder akvarellen kan man enten give den et par hæfteklammer eller som her et par store clips. Jeg sætter megen pris på, at min julestads og mine andre klippede ting kan klappes fladt sammen, når det skal gennem væk. Alt andet er spild af plads.
Især med de ting jeg laver sammen med børnebørnene som dukkehuse, dyr, træer, hele byer med huse, skal også kunne transporteres fladt i en lille "dametaske," så det kan trylles frem hjemme hos dem eller på en cafe, hvor børn ellers kan komme til at kede sig. Jeg har på tegnefilm set troldmanden Merlin trylle hele sit hjem ned i en lille taske, og sådan føler jeg det også, selv om jeg ikke kan trylle.
December is getting darker and darker, and you need light to cope with days being shorter and shorter. The lamps with LED lights help´s and use as many as you can find room for. They are very simple to make. You only have to use a watercolour painting figurative or nonfigurative in colours, that you like for Christmas. Unfortunately I do not like red and green very much. So this is my favorite colors. You use a little Marble Spray, and paint a little color, and when it is dry, you round the paper. To put it together, you can either use staples or paperclips. The latter will enable you to make it flat again after Christmas to save it for next Christmas.
Both things for Christmas or for playing with the grandchildren, dolls houses, animals, trees and villages with small houses are to be kept flat for transportations in a woman´s handbag. Then it can by magic come to life everywhere you need it for entertaining young children. Sometimes I feel like the wizard Merlin.
Fakta / Facts
1
Alle akvareller og klip er malet på Bockingford akvarelpapir 300g cold pressed med Maimeri farver. Mine 7 grundfarver vil række til det hele, men indrømmet, jeg har også dyppet penslen i lidt andre sjove farver af og til. Grundfarverne er: Cobalt Blue Light, Raw Umbre, Ultramarine Deep, Burnt Sienna, Magenta, Primary Yellow og Yellow Orchre.
All watercolours are painted on Bockingford paper 300g cold pressed with Maimeri watercolours. My 7 bacis colours will do, but I must admit, that I had my brush in other funny colours too. My basic colours are: Cobalt Blue Light, Raw Umbre, Ultramarine Deep, Burnt Sienna, Magenta, Primary Yellow og Yellow Orchre.
2
De sorte baggrunde er en sort tyktflydende blanding af Ultramarine og Burnt Sienna. Måske bliver den ikke så pæn første gang, men øvelse gør mester
The black baggroundis a thick mix from Burnt Sienna and Ultramarine. Don´t worry if it don´t turn out nice the first time. Practice can be needed.