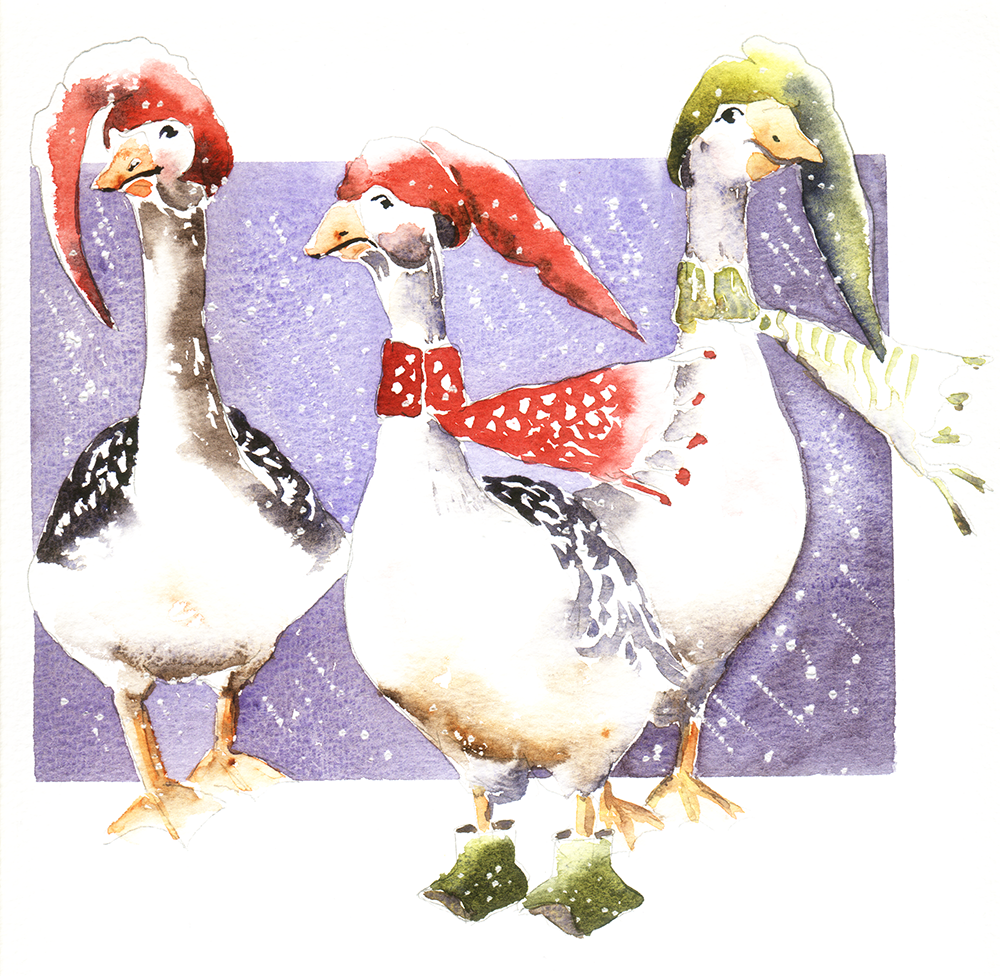 Ænderne fra Agersø var derimod et hit. Jeg havde tegnet de første uden nissehuer på om sommeren, da vi lå i havnen på Agersø. De vraltede rundt i en have på vej op til købmanden. Ligesom hønsene ser du ud til at føre en længere samtale med hinanden. Nu begynder jeg rigtig at glæde mig til julemaden. Vi spiste oprindelig ikke and juleaften, men så havde min far vundet en and i julelotteriet på arbejdet. Jeg kan godt huske, at min mor blev noget bleg, da min far ringede hjem fra arbejdet og glædestrålende fortalte om anden. Min far elsker andesteg, og ingen kunne være i tvivl om, at han forvende at få den 24. Min mor tog beslutsomt husholdningsleksikonet og slog op under fjerkræ. Min mor er fra byen, og har aldrig plukket en høne eller and. Det måtte hun så lære. Min far kom hjem, og anden var plukket, men den havde hoved på. Min far og jeg var nysgerrige, men blev smidt ud af køkkenet. Indtil min mor noget forsagt måtte kalde på min far. Hun kunne ikke skille hovedet fra andet. Min far hentede saven, og efterfølgende læste mor op fra husholdningsleksikonet, men min far ud fra anvisningerne tog indvoldene ud af dyret. Jeg husker at det smagte himmelsk. Min mor kan stadig bedst lige flæskesteg, mens min far og jeg elsker and. Så nu får vi begge dele.
The ducks from Agersø was a hit with my parents. I had made sketches from the ducks without Christmas hats during the summer, when we were out sailing and came to Agersø. Here the ducks came waddling out from a garden on our way to the grocery store. They looked like to had a long and interesting conversation. I´m really looking forward to the Christmas dinner now. Originally we didn´t eat duck on Christmas Eve, but when I was 5 my father won a duck in the lottery at work. He phoned home and I recall my mother getting pale imagining how to pick a duck. She was never a country girl. But my father loved roasted duck, and she had to do it for the 24th.She now started studying the housewife lexicon for preparing a duck. When my father came home it turned out, the duck had been picked, but it still had the head. My father and I were ordered out of the kitchen, until my mother discovered, that she could not herself behead the duck, she had to call my father. My father got his saw and afterwards they worked together, my mother reading aloud from the dictionary as my father took the guts out of the animal. I recall the dinner tasted heavenly. My mother still like roasted pork best, but my father and I prefer duck. So ever since we had both.
Fakta / Facts
1
Alle akvareller og klip er malet på Bockingford akvarelpapir 300g cold pressed med Maimeri farver. Mine 7 grundfarver vil række til det hele, men indrømmet, jeg har også dyppet penslen i lidt andre sjove farver af og til. Grundfarverne er: Cobalt Blue Light, Raw Umbre, Ultramarine Deep, Burnt Sienna, Magenta, Primary Yellow og Yellow Orchre.
All watercolours are painted on Bockingford paper 300g cold pressed with Maimeri watercolours. My 7 bacis colours will do, but I must admit, that I had my brush in other funny colours too. My basic colours are: Cobalt Blue Light, Raw Umbre, Ultramarine Deep, Burnt Sienna, Magenta, Primary Yellow og Yellow Orchre.
2
De sorte baggrunde er en sort tyktflydende blanding af Ultramarine og Burnt Sienna. Måske bliver den ikke så pæn første gang, men øvelse gør mester
The black baggroundis a thick mix from Burnt Sienna and Ultramarine. Don´t worry if it don´t turn out nice the first time. Practice can be needed.