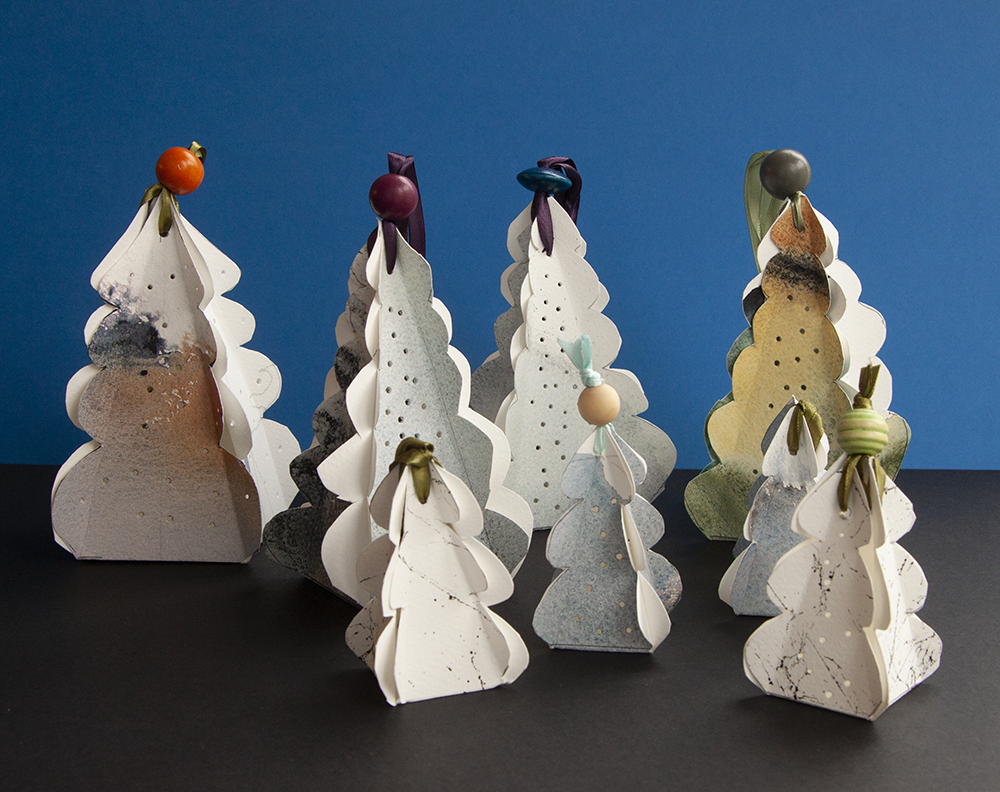 Juletræet skal på besøg i vores stuer i morgen, men lige nu står det ude i skoven og venter. Egentlig et det lidt mærkeligt at tager træer ind i stuen og sætter lys og farvestrålende pynt på. Men det hører med til julen. Her på årets korteste dag længes de fleste af os efter igen at se solen og foråret. Tiden er knap til en tur i skoven, hvis man ikke skal fanges af mørkes hurtige tiltag nærmest først på eftermiddagen. Men de står derude grantræerne. Jeg når sjældent i skoven på disse korte dage, men i stedet er der rækkevis af små klippede og foldede grantræer i min stue. Man kan lave foldede træer på mange måder. I år har jeg lavet dem med fast bund og lidt mere fyldige. De er tegnet op på kasserede akvareller. Tegn gerne på bagsiden. Først starter jeg med et kvadrat = bunden med en side på ca. 5 cm. Fra alle 4 sider tegnes en streg på midten 13 cm op. På kanterne her tegnes buer = grene hele vejen fra top til bund. Klip ud og bøj, også grenene. Prik huller i toppen med sylen. Hvis du vil have lys i prikkes tilfældigt i hele træet. Saml træet i toppen med to silkebånd gennem de øverste huller. Træk en trækugle gennem alle fire bånd og træk til så trækuglen sidder øverst i træet. Her kan du slå en knude og klippe resten af båndet af, eller du kan lade bånder forsætte til et længere ophæng.
I morgen vil jeg få den første mail fra Sven, en af vores sejler venner, der vil fortælle, at dagen nu er tiltaget med nogle få sekunder.
Waiting in the dark forest the Christmas tree will soon be visiting our houses. It really is odd, that we bring trees into our living rooms for colorful decoration and lights. But without it what would Christmas be? The 22nd is the shortest day of the year and now we long for days getting longer again, the sun and the spring. It is nearly not possible to get to the wood and get time to take a walk, before it gets dark early afternoon. But in my sitting room, there will be big a watercolour forest cut out and folded. You can do folded trees in many different ways. This year I did them with firm bottom. They are drawn on discarded watercolours. Start drawing a square = the bottom. Each side should be ca. 5cm. From the middle of all 4 sides draw a line 13 cm to the top of the tree. Do the branches in and out down to the corners of the square. Fold it and dot 4 holes one in each top. If you like light in the tree dot a lot of holes in the tree. To keep it together take two silk ribbon through the top holes and through a wooden ball. If you want it to hang from the Christmas tree tie a knot suitable length from the top.
Tomorrow I will have the first of many mails from Sven, one of our sailing friends, telling me how many seconds the day has now been getting longer.
Fakta / Facts
1
Alle akvareller og klip er malet på Bockingford akvarelpapir 300g cold pressed med Maimeri farver. Mine 7 grundfarver vil række til det hele, men indrømmet, jeg har også dyppet penslen i lidt andre sjove farver af og til. Grundfarverne er: Cobalt Blue Light, Raw Umbre, Ultramarine Deep, Burnt Sienna, Magenta, Primary Yellow og Yellow Orchre.
All watercolours are painted on Bockingford paper 300g cold pressed with Maimeri watercolours. My 7 bacis colours will do, but I must admit, that I had my brush in other funny colours too. My basic colours are: Cobalt Blue Light, Raw Umbre, Ultramarine Deep, Burnt Sienna, Magenta, Primary Yellow og Yellow Orchre.
2
De sorte baggrunde er en sort tyktflydende blanding af Ultramarine og Burnt Sienna. Måske bliver den ikke så pæn første gang, men øvelse gør mester
The black baggroundis a thick mix from Burnt Sienna and Ultramarine. Don´t worry if it don´t turn out nice the first time. Practice can be needed.