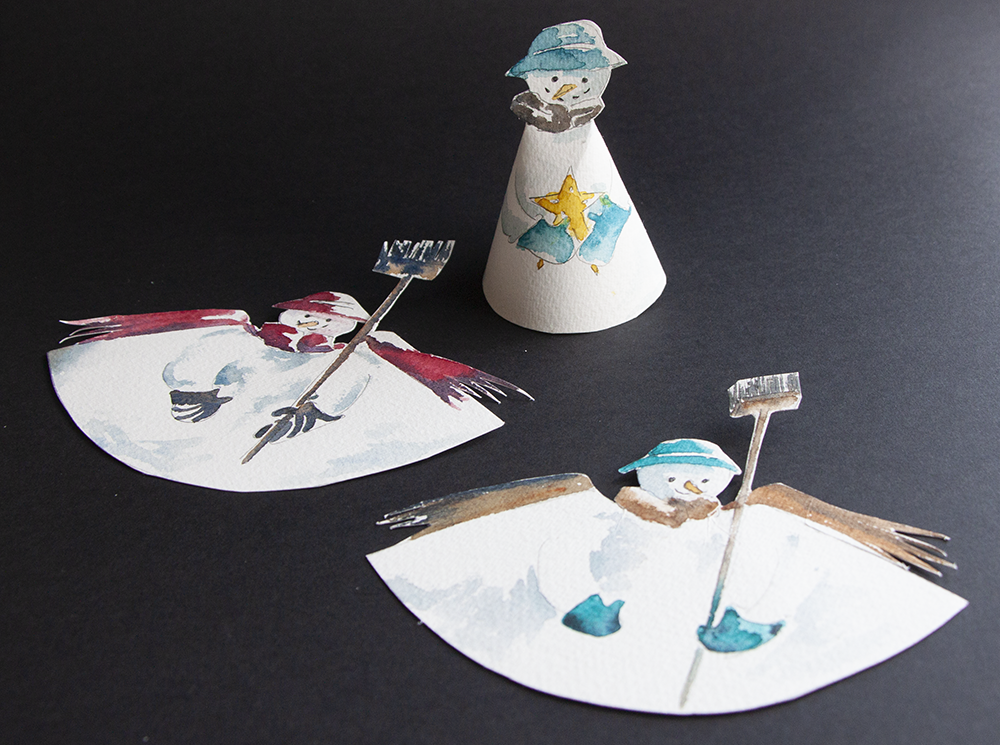 Nu er det snart, og det er tid til at tænke på lidt bordpynt til julebordet den 24. eller til julefrokosterne i de følgende dage. De små julesnemænd, begyndte egentlig som engle. Man forestiller sig et omvendt om lidt bredt kræmmerhus. Man tegner i stedet for den spidse top et hoved. Hvis det igen skal blive en engel skal der være en glorie også. Her er det en snemand, så han skal have hat på, en gulerod som næse og to kulstykker som øjne. Munden malet som en lidt brudt steg, som forestiller man sig, at den er formet af små bitte kulstykker. I mine minder om snemænd i min barndoms vinterlandskab brugte vi faktisk kul. Vi havde en kakkelovn, og udenfor et skur til koks, som blev leveret af nogle meget sorte mænd, såvel i hoved som på tøjet. Jeg husker ikke vi fik lov at tage et halstørklæde med ud til snemanden, men her ser det bedre ud. I halstørklædet der hænger ned ad ryggen klipper man så mellem tørklæde og snemand først oppefra og ned i den ene side dernæst nedefra og op i den anden. Når man så har bukket/rundet snemanden lader man de to klip gå ind i hinanden og låser den fast. Tørklædet stritter så lidt ud fra kroppen. Hvis det er engle tegner man vinger og folder på samme måde.
Now Christmas is just a day away. Now it´s time to think about decorating the Christmas dinner table. Or maybe decoration is required for Christmas lunches the following days. The small snowmen started out being angels. You are to think about them as an upside down cornet. Instead of the top you draw a head with a hat. If you want it to be an angel remember to do an angle halo. Here it´s a snowman and he has to have at hat and a carrot as a nose and small pieces of coal as eyes. Maybe he had more small pieces of coal for a smiling mouth. In my childhood, we had coal in the shield outside for using in the stove to keep warm. I don´t recall we were allowed to give our snowmen a scarf or gloves. But it looks better on the painting.
Alongside the scarf hanging down from his back you make two cut´s. On one side you cut half way from the top. On the other side you cut half way from below. When you have folded/bent and rounded the snowman you put him together by fitting the two cut´s together. The scarf will burst out from the body. If you did an angel, you do wings instead of the scarf.
Fakta / Facts
1
Alle akvareller og klip er malet på Bockingford akvarelpapir 300g cold pressed med Maimeri farver. Mine 7 grundfarver vil række til det hele, men indrømmet, jeg har også dyppet penslen i lidt andre sjove farver af og til. Grundfarverne er: Cobalt Blue Light, Raw Umbre, Ultramarine Deep, Burnt Sienna, Magenta, Primary Yellow og Yellow Orchre.
All watercolours are painted on Bockingford paper 300g cold pressed with Maimeri watercolours. My 7 bacis colours will do, but I must admit, that I had my brush in other funny colours too. My basic colours are: Cobalt Blue Light, Raw Umbre, Ultramarine Deep, Burnt Sienna, Magenta, Primary Yellow og Yellow Orchre.
2
De sorte baggrunde er en sort tyktflydende blanding af Ultramarine og Burnt Sienna. Måske bliver den ikke så pæn første gang, men øvelse gør mester
The black baggroundis a thick mix from Burnt Sienna and Ultramarine. Don´t worry if it don´t turn out nice the first time. Practice can be needed.