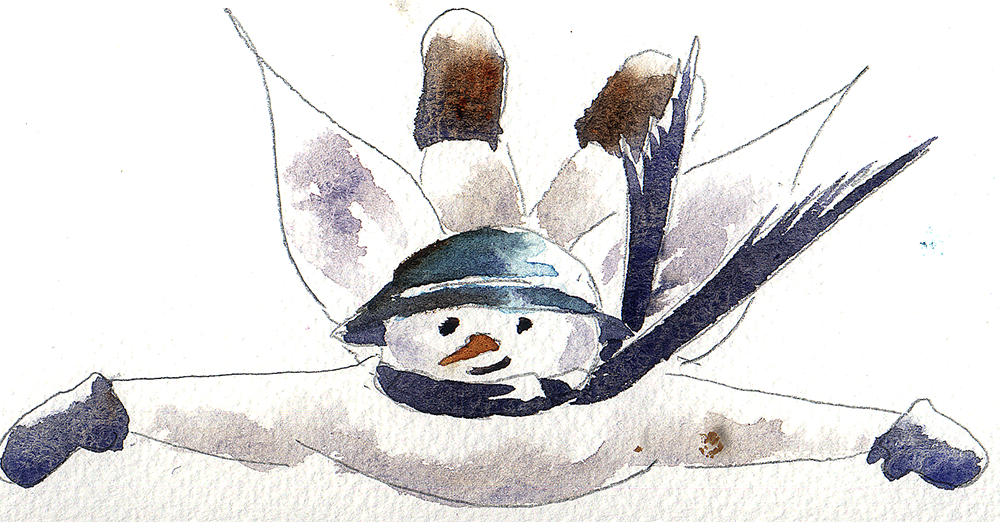 Min flyvende snemand nåede ikke at lande i år. Der kom ingen sne. Men den flyver rundt et sted derude og lander måske en gang i januar. Jeg er ikke afhængig af sne, så jeg kommer igen i det nye år med flere billeder og små historier.
Det er nu tid til at sige tusind tak til alle jer, der har fulgt mig gennem december måned. Tak for de mange hilsner og kommentarer til min julekalender. Den har været spændende at lave, men allermest spændende at få kommentarer til. Så mange tak.
Også tak for de mange fødselsdagshilsner den 24. Det varmer så dejligt.
I min familie har den 25. altid været meget stille med julefrokost hjemme, julekoncert i radioen og måske en middagslur. De store julefrokoster kom først fra den 26.
Det har været en dejlig jul i år. Den 21. fejrede vi jul med den ældste søn, hans hustru og børn. Og vi nåede julevisitter hos de gamle i familien, før kunne fejre juleaften med den yngste søn og hans familie. Her var der en vidunderlig ro, og to små børn. Det er så dejligt at klippe og male med de små. Det blev til mange nisser og juletræer med lys i, der fandt plads på de få centimeter i hjemmet, der ikke allerede var julepyntet. Jeg ved godt, at små børn, og her er de 8 og 5, har ord for at være overstadige og umulige den 24 indtil de trætte falder om efter pakkerne er åbnet langt ud på aftenen. Det kender vi ikke til i vores familie. Da julebordet skulle dækkes, og vi ikke længere kunne udfolde os kreativt her, mig og børnene roder ret meget, når vi maler, så gik vi en lang tur, mens de unge gik i gang med and og flæskesteg.
The calendar has reached Christmas and I want to say a big THANK YOU to all of you following me all December. It has been great doing the calendar, but most of all I enjoyed your comments on each day.
I also want to say thank you for all the greetings for my birthday on the 24th. It really got me warm on a dark and cold December morning. .
We had a lovely Christmas Eve this year. On the 21st we celebrated Christmas with our oldest son and his family, and after visiting old family members we went to celebrate Christmas Eve with our youngest son and his family. The children here are 8 and 5 and it´s great fun to paint and cut Christmas decorations. I was told that they could use some more decorations. So we did some Christmas trees and elves. We put them on the very few empty spaces left from what was already decorated for Christmas. The children and I can make a bit of a mess, so when the table was to be set for dinner, my husband and I took the kids for a long walk. Coming back it really smelt like Christmas with both the duck and the pork in the oven.
December the 25th has always been a quiet day in my family, having lunch at home with the Christmas concert from Vienna in the background. But from the 26th the big Christmas lunches begin.
My flying snowmen did not land in December this year, as we had no snow. But I´m sure they are out there circling waiting for snow to come down. It might come in January ….
I´m not depending on snow so I´ll be back in January with more paintings and stories.
See you soon.